Almost everyone you know is using social media to share information, connect with loved ones or read the news. 79% of Americans have at least one social media profile and in 2019, people spent an average of 2 hours and 24 minutes on social media platforms each day.
Since real estate is a relationship driven industry, these platforms can help you remain connected with past clients and engage with new leads. You should be using social media, but that doesn't mean you need to be using every platform.
A first step is to understand each platform's unique opportunities and challenges. Even a basic understanding will better position you to invest your time and effort where they will be the most effective.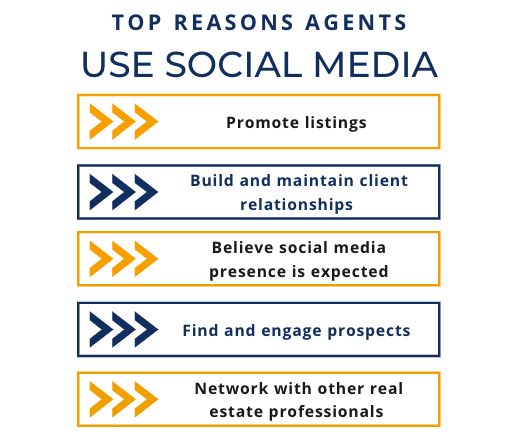 LinkedIn
LinkedIn is most valuable for business to business connections. You can create a profile to highlight your education, awards, certifications, professional accomplishments, job skills and volunteer work. You can also use the platform to make connections and gather endorsements.
Opportunity – create an online presence, build credibility, network with other agents and vendors, add to your sphere of influence

Challenge – limited to professional networking, lead generations opportunities – while available – are more likely to come from developing your sphere of influence than from buyers or sellers searching and finding you on the platform
You should know…more people than you might expect have a profile on LinkedIn but much of the interaction is co-worker to co-worker or employees sharing information about their company.
Twitter
The number of users on this microblogging platform is far below some of the other platforms but almost half of the users log in daily and almost all of the users following a business have either purchased or plan to purchase from the business.
Opportunity – share engaging content, images and links

Challenge – character limitation per post
You should know… there are more men than women on the platform but women are more likely to engage with a business.
Instagram
Instagram started out as a platform to post photos but has developed to allow users to post photo galleries, videos, stories and interactive content. Business accounts offer analytics not available on personal accounts to help measure reach.
Opportunity –

80% of users

follow at least one business or brand account and hashtags make content searchable

Challenge – post visibility is limited by algorithms and a high volume of content
You should know… Instagram users are some of the most engaged and 83% say they discovered a new business or product while on the platform.
Facebook
Facebook remains the most used social media platform. It started as a place to connect with friends and family but has grown into a marketing platform essential for small businesses. Brands used to be able to develop awareness organically but with over 1 billion daily users, brands are now paying to boost posts.
Opportunity – allow clients and prospects to get to know you better

Challenges – 40% of users do not connect with any businesses or brands and will only be reached through paid ads
You should know… almost 70% of adults have a Facebook profile and over half log in daily.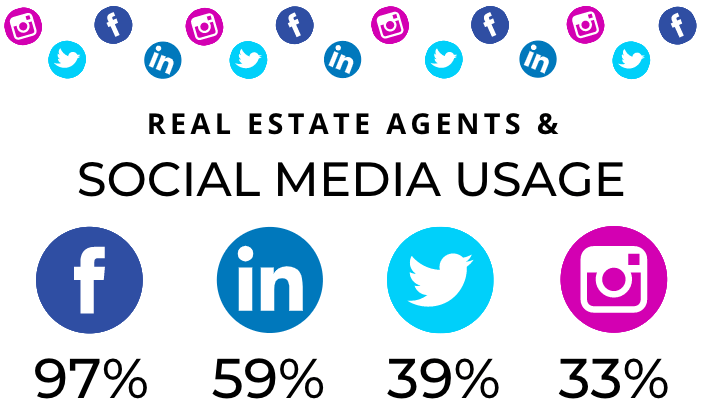 It is very easy to post on social media which makes it very easy to make mistakes!
Social media marketing is an opportunity for real estate agents to shine (or stumble!) and should be approached thoughtfully.
Watch a recent session of our Social Media & Real Estate webinar now, where members of our marketing team reviewed how to connect, what and when to share impactful content.